Welcome to the Gladiator Wiki
Gladiator was a 2000 film about the Roman General Maximus Decimus Meridius, who was forced to become a Gladiator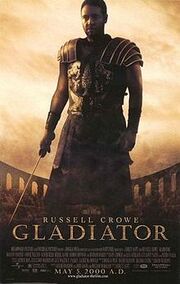 General Maximus Decimus Meridius (Russell Crowe) leads soldiers of the Roman army to a decisive victory against Germanic barbarians. It finally ends a long war on the Roman frontier and earning the esteem of the elderly Emperor Marcus Aurelius (Richard Harris).
Maximus was a high ranking Roman general in command of multiple Roman legions who served under the Roman Emperor Marcus Aurelius in his Twelve Year Campaign against the barbarians in Germania. He later served as a Gladiator in the arena after he escaped Commodus. He eventually killed Commodus, but died shortly after.
Loading RSS data...
Ad blocker interference detected!
Wikia is a free-to-use site that makes money from advertising. We have a modified experience for viewers using ad blockers

Wikia is not accessible if you've made further modifications. Remove the custom ad blocker rule(s) and the page will load as expected.